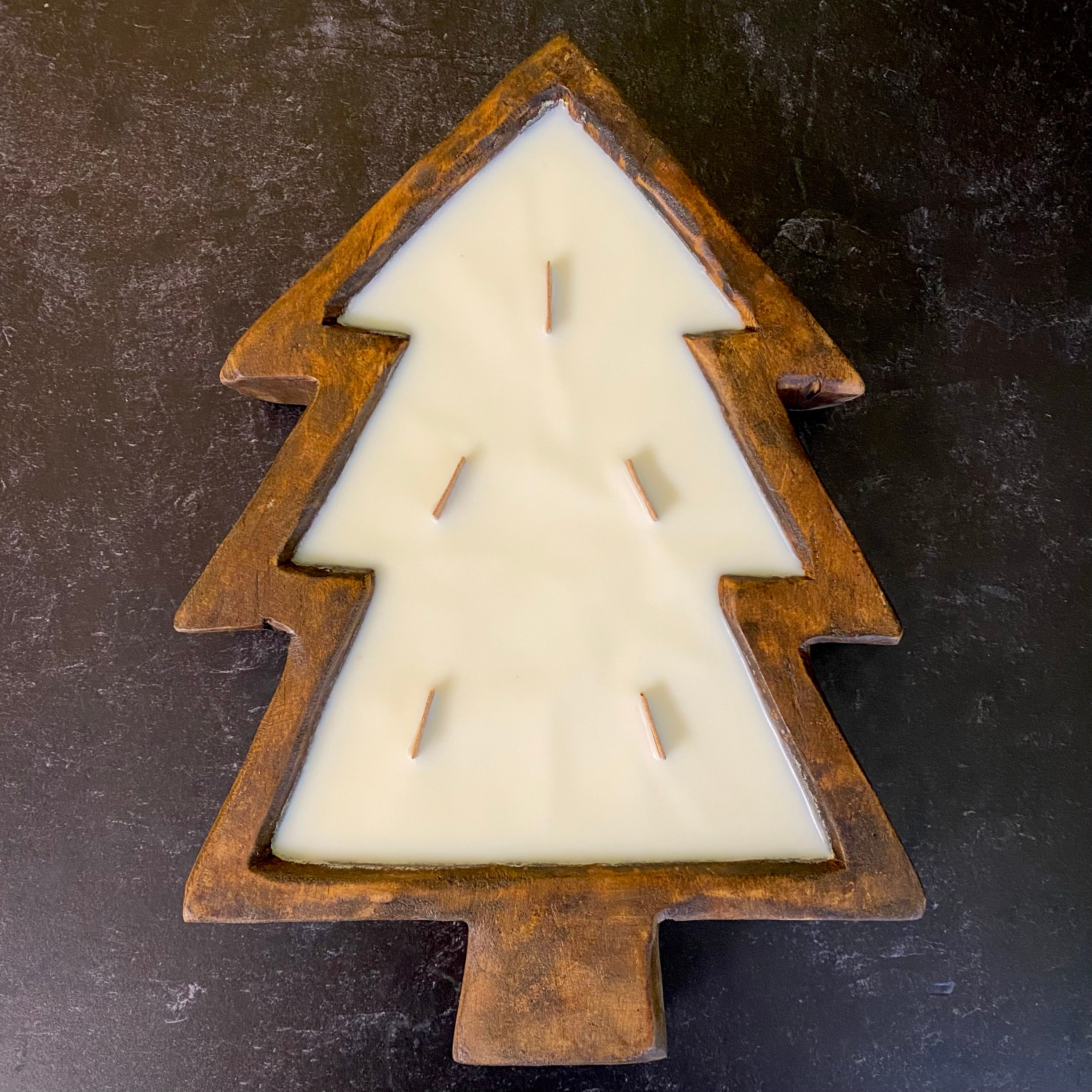 Christmas Tree Dough Bowl Candle.

Elevate your home decor with this elegant and festive Christmas Tree dough bowl soy candle. Each candle has 5 wooden wicks that provide a cozy, fireplace-like sound.

Scented in Fraser Fir, Snowy Pines or White Christmas.

Scent descriptions:

Fraser Fir- Inspired by the popular Christmas tree, our Fraser Fir fragrance has mild citrus top notes, earthy undercurrents, and a woody, fir balsam core that makes you think "Christmastime." Cozy and comforting, Fraser Fir is perfect for setting a festive holiday mood or creating the right ambience for a quiet winter evening by the fire. This fragrance is infused with natural essential oils, including fir balsam.

Each candle is *approximately 25-35oz and are hand poured in small batches to ensure quality and consistency. Made with 100% Natural Soy wax, hand poured into each Dough Bowl. I use only the highest quality, phthalate free fragrance oils in all of our candles. No chemicals are added.

Soy burns clean leaving no black smoke, toxins, or chemicals. It is a natural American farmed product. Soy candles burn longer, giving you more value for your dollar.

Each candle burns *approximately 70-80hrs. Be sure to allow your candle to make a wax pool to the sides of the vessel upon first burn for best results and even burns in future lightings. Always trim your wicks to approximately 1/4" before re-lighting.

*Each Dough Bowl is hand carved and can slightly vary in size and shape. This means that they may have a small variance in the amount of wax in each candle. This may also effect how long and in what manner they burn. Vigorous testing was done on these candles to ensure the most even and consistent burn possible.

Dimensions: 14" x 9" x 2" (approximately)

Every Dough Bowl Candle comes with a wood wick care card. Because wood wicks work a bit differently, I want to make sure that everyone gets the most out of their candle by burning it properly and in its most efficient form.
Payments
Payment due upon ordering. We accept PayPal and all major credit cards. No refunds unless items are defective.
Shipping from United States
All orders are expected to ship between 1-3 days from the time of purchase. Holidays and weekends can affect these times but we do our best to stay on schedule.
Returns & Exchanges
I gladly accept cancellations